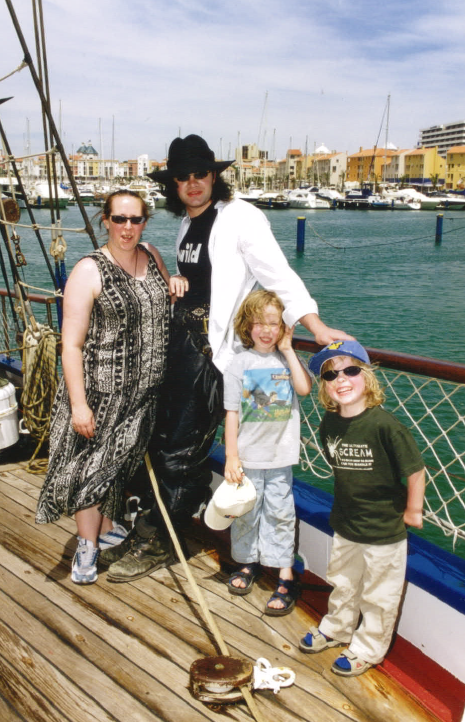 Hi! I'm Lynne Morgan and I'm a Team Beachbody Coach, 2B Mindset Mentor, and Ultimate Portion Fix Master Coach. I live in rural Lincolnshire in the UK with my husband, two sons, several cats, chickens, and a selection of musical instruments. I grew up in London but never liked living in the city. Probably something to do with regular extended visits to family friends in rural Norfolk when I was a kid. I always felt so free there.
At school, I was an athlete. I played tennis, netball, and hockey, and I loved running. Sprinting was my big thing, but because I also wanted to be a serious musician, sport was put to the bottom of the list. After all, you can't risk injuries when you're studying for a piano or cello exam, and being out in the cold for a netball or hockey match could seriously affect your voice. Sadly, at the age of 18, I got nodules on my vocal chords and my dreams of a classical singing career were pretty much over.
Fast forward 25 years, and I was a physical and emotional wreck. Quite apart from recurring bouts of depression, I had three knee operations, sciatica, multiple injuries from a car accident which included a broken neck, and recurring problems with my upper back and shoulders as a result. I had every excuse in the book for being overweight, and I'm pretty sure I used them all. I knew I had to sort myself out so I joined Weight Watchers, and in September of 2010, I reached my goal weight. In fact, I loved it so much, I became a Weight Watchers leader and ran a couple of meetings in my local area.
I loved seeing the successes of the people who came through the door, and I really felt like I was a part of something important in their lives. It was a great feeling. But there were a few problems with it. While individual Weight Watchers leaders (now called coaches) were thrilled by the successes of their members, it felt like that wasn't the company's main goal. They were more interested in the 90% of gold members who fell off the wagon and had to start again. After all, it's a business, and people who stay at their goal weight don't pay.
And then there was me. I lost nearly four and a half stone (60 lbs) to reach my goal weight. I was a size 8 (that's a 4 in the US) and I looked great, as long as I was dressed. You see, the problem was, I was still fat. Sure, you couldn't really tell, and the fat was gone on the inside, but the flab was still there. I was incredibly proud of the fact that I'd lost all that weight without adding one minute of exercise to my routine. So I was slim alright, but I still couldn't go upstairs without getting out of breath, let alone run for a bus, and the bingo wings were still very much in evidence.
About two years into my Weight Watchers career, I suffered a nervous breakdown and everything had to go. My job had already gone, my meetings were right behind it. If you've ever had adrenal fatigue, you know what I'm talking about. Over the next couple of years, I piled the weight back on, plus a bit. I was just exhausted and I didn't have any interest in anything other than putting one foot in front of the other, one day at a time.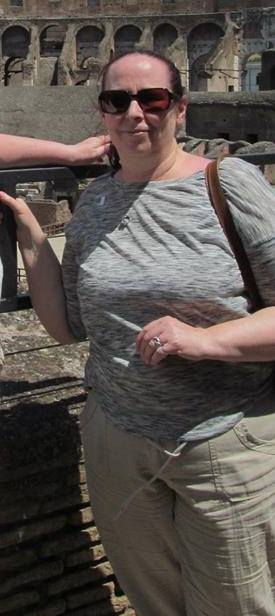 Then one night, after falling asleep in front of the TV, I was woken up by an infomercial for Insanity. Shaun T was yelling at me (he's known as "the shouty man" in our house to this day) and I just knew that this could be the thing that could get me out of the mess I'd got myself into. But I also knew that it would be far too much for me in my current state. I was all ready to switch off and try to get back to sleep when the infomercial switched to Slim In 6.
And there it was. Debbie Siebers, a woman my age, who'd had the same struggles I'd had, showing by example that you could take back control of your body and your life. I didn't even think. I went straight online and ordered Slim In 6 with all the optional extras.
It was no easy job, but then I'd been out of exercise for more than 30 years by that point. The fact that I could do even a couple of crunches was a huge deal and I was really proud of myself for getting through that first routine. But what was to come was even more incredible, because I was ready to move up to the next level before the two weeks for level one (Start It Up) were over. And not only could I see a difference, my husband could too.
My injuries got in the way from time to time. For instance, I had to take almost 9 months out because of bursitis in my shoulder which nearly required surgery; surgery I avoided by starting up Slim In 6 again, as the gentle movement and the stretching from Slim and Limber helped to loosen up the impingement and got me moving again.
Since that first programme, I've done some others. 21 Day Fix, Cize, Hip Hop Abs, T25, PiYo, LIIFT4, and MM100, to name but a few. Recurring injuries have made it slow going, but at the time of writing, I'm a mere two-ish stone (30lbs) away from my original goal weight. That's highly achievable over the next year, and I'm doing it all with Beachbody, and with the help and support of my coach, and all the other great men and women who follow the programmes.
So, as they have supported me, I'm here to support you, wherever you are in your journey to take back control of your own life, in putting yourself first so that you can take care of others. Your body is the only place you have to live in. Let's work together to make it a great place to live by making ourselves a priority in our own lives.